Artists
Artículos del 1 al 3 de 3 en la página 1 de 1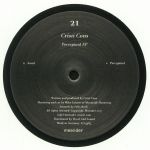 Cat: MEANDER 21. Rel: 17 Apr 17
Minimal House/Tech House
Aural (12:24)

Perceptual (11:25)

Celestial (10:07)

Mutual (8:59)
Review: Amphia co-founder Cristi Cons has been rather quiet of late, having previously impressed with a swathe of solo and collaborative EPs in early 2016. Here, the Romanian producer returns to action for the first time in 2017 via a rock solid collection of cuts, which come stretched across two weighty slabs of wax. As you might expect, all four tracks sit neatly into the now familiar Romanian tech-house style, which combines the crackling textures and production intricacy of minimal techno with the head-nodding shuffle of tech-house drum programming. Our highlight is probably super-odd closer "Mutual", which boasts some serious sub-bass and plenty of odd electronic noises, though the slightly more symphonic "Perceptual" is not far behind.
…

Read more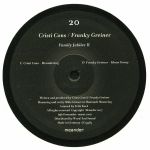 Cat: MEANDER 0202. Rel: 31 Jul 17
Minimal House/Tech House
Cristi Cons - "Meandering" (7:51)

Franky Greiner - "Klaus Grony" (11:57)
Review: Dewalta's Meander imprint has been particularly impressive in recent times, with hot releases from the best of the best in minimal techno. Celebrating a decade in the business, the label presents the second edition of Family Jubilee which features Romanian rising star (and recent collaborator) Cristi Cons. Where he and Dewalta served up one of last year's standout releases with their Space Between EP, Cons flies solo here and serves up some of his typically reductionist mini-funk on "Meandering" a truly hypnotic groove if we've ever heard one. On the flip is Berlin based newcomer Franky Greiner who has appeared previously on Perlon, Cadenza and Cityfox. His contribution entitled "Klaus Grony" is a long and tripped out journey that's perfect for bending minds at the Sunday afterhours.
…

Read more
Cat: FUSE 027. Rel: 04 Dec 17
Minimal House/Tech House
Volver

Nuevo (vinyl Only)

Nuevo (Enzo Siragusa remix)
Review: Guti is arguably one of dance music's most enthusiastic collaborators. To date, the Argentine producer has released joint productions with an impressive list of house and techno talent, including Martin Buttrich, Shlomi Aber, Benny Rodriguez, Morgan and Guy Gerber. On this 12", he's joined in the studio by Romanian rising star Cristi Cons. The like-minded pair hit the ground running with "Volver", a stomping tech-house floor-filler whose tough, acid-flecked groove and metronomic bassline come wrapped in ghostly chords and trippy electronics. Over on the B-side, "Nuevo" is a chunky but spacey deep house affair. That track is given the remix treatment by Enzo Siragusa, who brilliantly toughens it up and drags it further towards peak-time techno territory.
…

Read more
Artículos del 1 al 3 de 3 en la página 1 de 1