Artículos del 1 al 3 de 3 en la página 1 de 1
Cat: ASTRAY 012. Rel: 09 Oct 17
Techno
Observate (5:37)

Observate (P Leone remix) (6:15)

Remote Conversation (ambient re-touch) (4:29)

Remote Conversation (Blind Observatory remix) (6:27)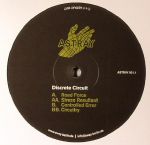 Cat: ASTRAY 011. Rel: 10 Jul 17
Techno
Road Force (6:01)

Stress Resultant (5:29)

Controlled Error (6:57)

Circuitry (4:12)
Review: Discrete Circuit is Berlin based producer Andreas Horn, who some of you may know as boss of the Aussie-Germanic connection known as the Away Music crew. Formerly a duo but now helmed solo by Horn, Discrete Circuit has had releases thus far on Dutch powerhouse Delsin and DVS1's Mistress. "Road Force" is a tough and gritty hardware focused jam, that relies on simple and subtle elements: a basic monosynth arpeggio and a 909 and it's all you need to stir up a frenzy here! The metallic hiss of said drum computer's hi-hats, in addition to a wonky analogue synth riff and overdriven kicks make up "Controlled Error" while B side cut "Circuitry" is something different altogether on this experimental industrial/noise cut.
…

Read more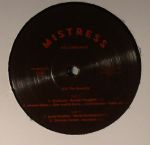 Cat: MISTRESS 005.2. Rel: 16 Mar 15
Techno
Ombossa - "Bonish Thuggish" (7:02)

Jerome Baker aka (The Real) DJ Boris aka Lord Damian - "Track 20" (6:33)

Juxta Position - "World Domination" (7:07)

Discrete Circuit - "Incursion" (5:55)
Review: Mistress Recordings offer up the brown-haired division of their three-pronged various artists series, giving airtime to an equally unfamiliar but utterly deserving cast of characters. Compared to The Blonde, there's an even greater sense of experimentation going on with these four tracks as Ombossa whips up an uneasy blend of lingering piano notes and muffled thud before Jerome Baker delivers a startling uptempo workout that moves with the delicacy of a ballerina. Juxta Position is happier revelling in a slow and sleazy vat of acid, and then Discrete Circuit switches the mood for a stomping big room techno burner.
…

Read more
Artículos del 1 al 3 de 3 en la página 1 de 1