Artículos del 1 al 2 de 2 en la página 1 de 1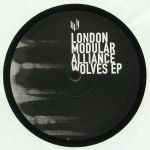 Cat: HYPE 064. Rel: 02 Oct 17
Electro
Brockie Det (4:57)

Militant (5:59)

Advance & Proceed (4:19)

Tremors (4:59)

Wolves (3:28)
Review: Since first pitching up on Hypercolour late last year, hardware fetishists London Modular Alliance has continued to deliver some of the most exciting electro around. Famously, the trio construct their cuts entirely using modular synthesizers, jamming live until they settle on a groove or riff to explore further. That guarantees that their machine funk sits somewhere between the pulsating hypnotism of classic Kraftwerk, the intergalactic moodiness of Drexciya and the harder-edged fodder popular in places like Rotterdam and the Hague. It goes without saying that this EP is packed with killer cuts from start to finish, something that makes picking highlights truly tricky. Really, all you need to know is that it's a must-have.
…

Read more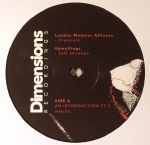 Cat: DIREC 003. Rel: 17 Jul 17
Techno
London Modular Alliance - "Crosstalk" (4:25)

Upwellings - "Soft Shadows" (5:40)

Mike Dehnert - "Tokio" (6:01)

Obsolete Music Technology - "Comb Freq" (7:12)
Review: With its festival, International Series, DJ Directory and Soundsystem: Dimensions has become a leading name in the underground. In only a mere six years of existence thus far, that's quite impressive we must say! Now, they extend their influence with the start of a new label: Dimensions Recordings. It launches with a 12 track compilation across three separate discs. Where the first disc delved into the exotic and explored world music and soulful vibes, this edition features some cutting edge electronics from legends and new heroes of the scene alike. Electro heroes London Modular Alliance appear with their best impression of purist Detroit electro on "Crosstalk" while the A side also features the glacial dub techno tones of Upwellings' "Soft Shadows". On the flip, Fachwerk boss Mike Dehnert gives us the very Robert Hood sounding "Tokio"and Windy City legend Steven Tang aka Obsolete Music Technology appears with something harder than you'd usually expect from the man: on the gnarly analogue techno of "Comb Freq".
…

Read more
Artículos del 1 al 2 de 2 en la página 1 de 1