Artículos del 1 al 2 de 2 en la página 1 de 1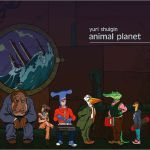 Cat: CDA 024. Rel: 11 Jun 18
Deep House
Animal Planet (main mix)

Boogie Space

Walking

Dubby Body

Recordtake (Sketch)
Review: Previously caught unwinding psychotropic deep techno on Ethereal Sound, Modernista and more, Yuri Shulgin now comes to Cocktail D'Amore with the kind of discoid acid sound the label loves so dearly. "Animal Planet" is a fine case in point, laying the psychedelic touches on thick and taking a bold approach to composition without losing his grip on the punchy acid bassline. "Boogie Space" is a boxy workout, while "Walking" brings some limber instrumentation into the mix in line with the title track. "Dubby Body" is another off-kilter tool for adventurous DJs, and then "Recordtake (Sktech)" finishes the EP on a weird and wonderful free jazz boogie tip.
…

Read more
Cat: 30REC 002.
Minimal House/Tech House
Yuri Shulgin - "Friendly Circles"

Ben Hauke - "Thames Down"

Inkswel - "Overstand" (feat Kid Sublime)

Henri Leblanc - "Ancient Times"

Brando - "Money"
Artículos del 1 al 2 de 2 en la página 1 de 1