Artículos del 1 al 2 de 2 en la página 1 de 1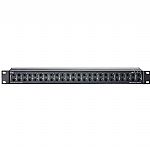 Cat: 515499 Rel: 10 Dec 13
19" rackmount balanced patchbay for studio or live use
Notes: The ART P48 48 point balanced patchbay is the best solution for organising cables while optimising connectivity in any studio or live PA rack. Designed for maximum convenience, each pair of TRS 1/4" balanced I/O can be configured for normal or half normal operation.

The fully shielded steel 19" 1U rackmount chassis has reversible rack ears for maximum flexibility.
…

Read more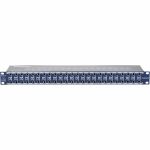 Cat: 624099 Rel: 19 Dec 16
Fully balanced 48-point patchbay with 1/4" TRS connectors
Notes: The Samson S Patch Plus features high quality miniature toggle switches allowing each channel to be configured for either Normalled, Half-Normalled or Thru operation. The S-Patch Plus will provide reliable operation while maintaining a clean signal path with it's solid construction, 48 1/4" phone plugs on the front and 48 1/4" phone plugs on the rear.

You can instantly change any channels configuration without the need to remove the unit from the rack as the mini-toggle switches are conveniently located on the front panel. S-Patch Plus is one of the best entry level patch bays on the market. It helps you work cleaner and faster allowing you to focus on making a better production - a great value for money product for the small home studio owner.


…

Read more
More than 10 in stock
$100.94
Artículos del 1 al 2 de 2 en la página 1 de 1