Equipment
Artículos del 1 al 3 de 3 en la página 1 de 1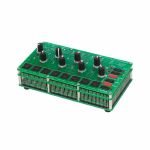 Cat: 667896 Rel: 30 Oct 17
Based on a classic analog step-sequencer - optimized for jam-sessions
Notes: The audiowerkstatt mini-midi-step-seq is a MIDI-sequencer (no gate/CV), which is based on a classic analog step-sequencer:

- Programming with potentiometers (no endless-dial and no detent)
- Only one track
- No pattern-storage
- No internal clock (only usable as MIDI-slave)
- No display

It is optimized for live use, especially jam-sessions, but can also be used to give you new ideas, if you are stuck in your main sequencer.

- All settings can be changed while it's running.
- 2 x 8-step-pattern, that can be used alternatively or chained to a 16-step-pattern.
- Normally the pattern changes, when the one that is played ends. With a special "jump"-button it is possible to jump from one pattern to the other immediately without loosing synchronization.
- It is possible to edit the pattern that is playing or edit the other pattern.
- LEDs next to the potentiometers display after changing the pattern, if the position of the potentiometer is corresponding to the used value. If not, the position of the potentiometer is not used and the LED stays dark until the potentiometer passed the used value.
- One pattern can be copied to the other.
- Several steps can be put together, to get different note-lenths in one sequence.
- The first step can be adjusted (independently for each pattern, to make it possible to get sequences with odd numbers of steps, that are bigger than 7 steps (e.g. 13 steps).
- The last step can be adjusted (independently for each pattern, to make it possible to get sequences with odd numbers of steps, that are bigger than 7 steps (e.g. 13 steps).
- The clock-divider can be set in 8 steps (1/1 to 1/32).
- The velocity can be set in 7 steps (1 to 127).
- The 8th position for velocity is a mode, where a random number is created for each step and used as velocity.
- The range that can be programmed with the potentiometers (from full anticlockwise to full clockwise), can be set in 7 steps (13 notes to 128 notes).
- The 8th position for range is a mode, where the same note is played for every step and the potentiometers are used to program pitchbend. This makes it possible to program patterns, that are not pitch-quantized in halftone-steps. Because pitchbend is interpreted different from synthesizer to synthesizer, the maximum range that can be programmed, depends on the used synthesizer.
- The lowest note can be set in 8 steps to transpose (C0 bis C7).
- The gate-length can be set in 16 steps. The highest value makes the last note end after the new note starts to get a legato-effect.
- It is possible to generate two additional notes by setting their interval to the note set by the potentiometers. You get up to 3-voice polyphonic patterns similar to things done with "chord memory".
- The sequencer can be pushed forward or backward a step or midi-clock-tick (same as audiowerkstatt midi-clock-shifter ).
- If you got lost (e.g. after changing clock-divider, first- or last-step), you can restart the sequencer without stopping the master (same as audiowerkstatt midi-restarter ).
- All settings can be changed while the sequencer is running and all settings are stored after powering down.
…

Read more
Cat: 599128 Rel: 11 Jul 16
32 step note sequencer controller with MIDI & USB connectivity - capable of storing up to 768 sequences
Notes: The Misa Digital NSC-32 (NSC) is a 32 step Note Sequence Controller - a new type of electronic musical instrument that allows the user to manipulate and cue electronic music sequences live. It is an alternative take on a "step sequencer".

It is a MIDI controller and makes no sound of its own - it connects to a synthesizer/sampler/DAW via MIDI or USB.

The NSC-32 can play multiple sequences (patterns) simultaneously. Typically each pattern will be responsible for a different section of the music. For example: one pattern for drums, one pattern for bass and one pattern for chords.

Note sequences are visually displayed on the note grid and can be modified by pressing the cells on the note grid. The individual notes are represented as blue illuminated cells. Notes can be selected, copied, moved and pasted using the control functions.

A vertical green step cursor will move across the note grid at a speed determined by the BPM set. When the step cursor lands on a note, it will play that note. Similarly, when the cursor moves off a note, it will stop playing that note.

Sequences can be played (cued) and stopped in sync with the master clock.

Sequences can be stored in permanent storage for later use. The NSC-32 can store up to 768 sequences. Each cell on the note grid behaves as a save location. This means you can visually group different sets of presets on the grid based on category.

*For instruction manual, please visit - http://misa-digital.myshopify.com/pages/nsc-32-instruction-manual
…

Read more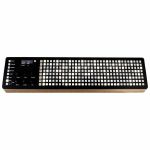 Cat: 667754 Rel: 06 Nov 17
Flexible step sequencer featuring 32 steps over 8 polyphonic tracks, with 256 pattern storage
Notes: Polyend designed Seq with some non-digital musical devices in mind. They did it for a reason. Their goal was to implement features that make Seq as playable and fun to use as possible. They made it easy to set up and even easier to create rhythms, chords, and melodies. Most of the functions are available directly from the front panel and all its features give you the quickest and most natural way to bring your ideas to light. And, when you've got them together, rest assured they won't get lost thanks to the Autosave function.

Seq is its own computing centre, hardware- and software- optimized to manage given tasks in the most effective way, without latency or glitches. Immediate responsiveness creates a synergy between the musician and the tool. It's an inspiration right from the very first step.

The idea:
Intuitive to use hardware step sequencer. 32 steps, 8 track polyphony, 256 pattern storage - all enclosed within the highest quality aluminium and wooden housing. Multiple connections give you the freedom to play with your hardware and software devices. It's designed for you to be inspired and, most importantly, fully enjoy the process of creation. Seq is all you need for the way you make music today.

The heart of your creativity:
Equipped with a wide array of inputs and outputs, allowing you to communicate freely with other devices of every era and genre. Lets you feed tracks with MIDI notes using your favourite MIDI controller. Every track can be recorded step by step or in real time and then quantized independently.

With two MIDI outputs, you can connect rhythm and sound machines simultaneously. You choose where to send out the signal from every track, and if that's not enough, you can also use the USB port for the same purpose.

Big step forward in design:
The use of oak and aluminium - materials of timeless quality - allowed Polyend to avoid the need for any flashy details, making what remains even more elegant in its simplicity. Seq buttons are made of silicone with specially matched density and firmness. Their shape, size, and arrangement were chosen carefully to provide an instant and explicit response. Most of the parameters and values can be read from the Seq interface at a glance. For the rest of them, Polyend provide a bright and sharp screen. Minimalistic, stripped down from any distractions, it brings all the information you need in any performing conditions you meet.


…

Read more
Artículos del 1 al 3 de 3 en la página 1 de 1