Artículos del 1 al 2 de 2 en la página 1 de 1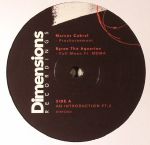 Cat: DIREC 002. Rel: 17 Jul 17
Deep House
Marcos Cabral - "Prochainement" (7:46)

Byron The Aquarius - "Full Moon" (feat MDMA) (5:09)

Lady Blacktronika - "Can We Still Be Friends?" (7:05)

DJ Aakmael - "Transit" (5:58)
Review: Given that Croatia's Dimensions Festival is one of the most consistently on-point electronic music events around, it figures that their new off-shoot label should regularly hit the spot, too. Certainly, the early signs are good. This second sampler single impresses from start to finish. Occasional L.I.E.S artist Marcos Cabral kicks things off with a fine chunk of fluid, underwater deep house ("Prochainement"), before Byron The Aquarius reaches for the talkbox on the sumptuously deep, soulful, jazz-funk influenced house bliss of "Full Moon". Lady Blaktronika gets things going on side B with the groovy, late night Detroit deep house bump of "Can We Still Be Friends". Arguably best of all, though, is the dreamy, jammed-out analogue deep house warmth of DJ Akmael's "Transit".
…

Read more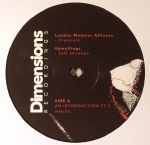 Cat: DIREC 003. Rel: 17 Jul 17
Techno
London Modular Alliance - "Crosstalk" (4:25)

Upwellings - "Soft Shadows" (5:40)

Mike Dehnert - "Tokio" (6:01)

Obsolete Music Technology - "Comb Freq" (7:12)
Review: With its festival, International Series, DJ Directory and Soundsystem: Dimensions has become a leading name in the underground. In only a mere six years of existence thus far, that's quite impressive we must say! Now, they extend their influence with the start of a new label: Dimensions Recordings. It launches with a 12 track compilation across three separate discs. Where the first disc delved into the exotic and explored world music and soulful vibes, this edition features some cutting edge electronics from legends and new heroes of the scene alike. Electro heroes London Modular Alliance appear with their best impression of purist Detroit electro on "Crosstalk" while the A side also features the glacial dub techno tones of Upwellings' "Soft Shadows". On the flip, Fachwerk boss Mike Dehnert gives us the very Robert Hood sounding "Tokio"and Windy City legend Steven Tang aka Obsolete Music Technology appears with something harder than you'd usually expect from the man: on the gnarly analogue techno of "Comb Freq".
…

Read more
Artículos del 1 al 2 de 2 en la página 1 de 1