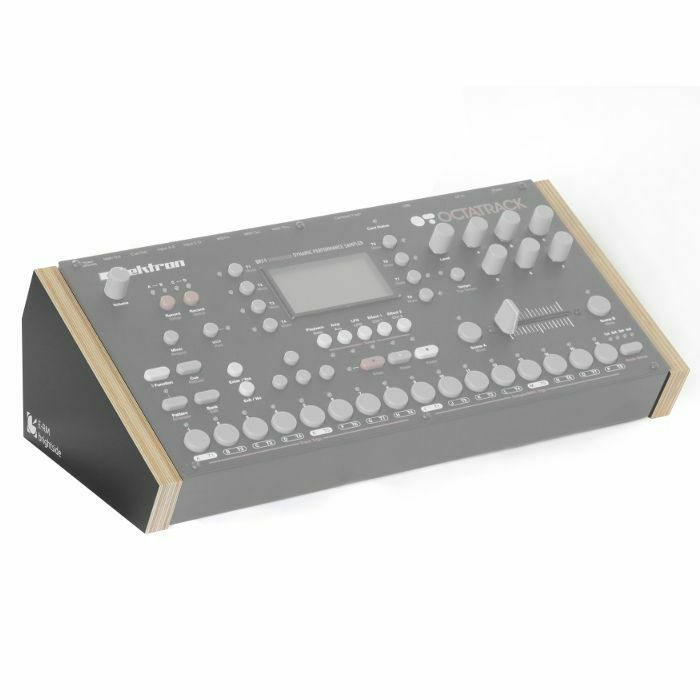 ERM Brightside Ergonomic Wooden Side Ends For Elektron Desktop Synthesizers (black, wooden) (B-STOCK)
SAME DAY SHIPPING!
ParcelForce, FedEx, Royal Mail
100% Compra Segura
Order by phone
+44 20 7424 1960
quote 612739
Lines open in 0 hrs 6 mins.
Details
Specs
Delivery
Returns
***B-STOCK: Box opened, product in perfect working order***


Are you tired of bending over your beloved Elektron desktop machine to read the display?

Add our ergonomic wooden side ends and raise it up in two different angles. Tool-free assembly.

brightside fits all Elektron Music Machines from the newer generation. That means:

- Octatrack
- Analog Rytm
- Analog Four
- Machinedrum MK II
- Monomachine MK II

Simply screw the four stainless steel pins into the holes on the side of the chassis. From now on, you can slip the side ends on and off.

brightside holds itself tightly to the machine and can easily be attached and removed on the road.

No missing screwdriver on stage, no extra space needed while traveling.

You can mount your pair of brightside in two different ways.

One position raises your machine to a smaller angle, the other one is much steeper.
In both cases your gear sits solidly on the surface and accepts even the hardest button presses without tilt.

This allows you to adapt the studio or stage situation every time you set your gear up.
| | |
| --- | --- |
| Weight (g) | 360 |
| Dimensions (mm) | 262 x 40 x 160 |
If you decide an equipment item is not suitable within 10 days of delivery, you can return it to us for a replacement or refund. Returns must be unused and in their original, undamaged packaging.
Gifts purchased between 30 November and 24 December may be returned by Friday 6 January 2016".
Some items are excluded from our money back guarantee, including:
• Computer software that has been unsealed or registered
• Any item that comes directly into contact with the nose, ears or mouth
To arrange a return, just contact our customer service department on 020 7424 2800 or email us at support@juno.co.uk

BEST MUSIC STORE:
5 TIME WINNERS