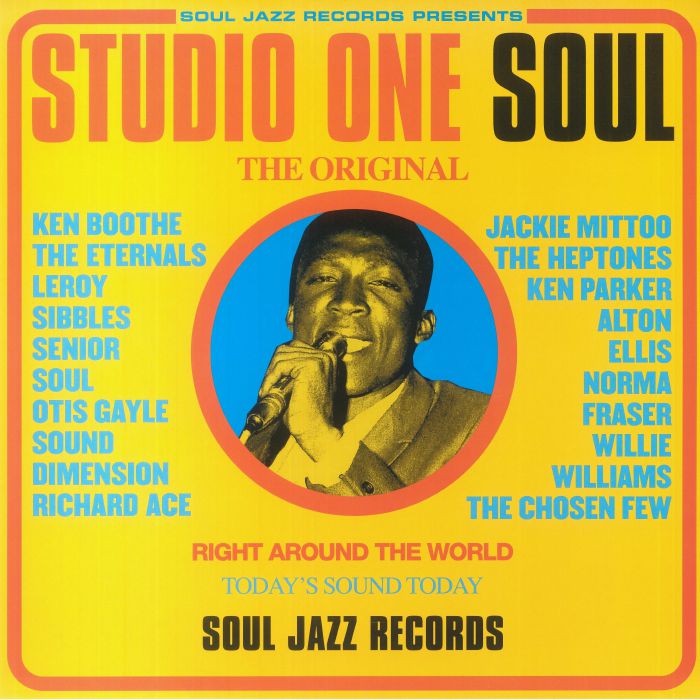 Receive new release alerts for...
Soul Jazz

Tracklist
Cara 1
1.
Leroy Sibbles - "Express Yourself" (3:33)
2.
Norma Fraser - "Respect" (2:50)
3.
Leroy Sibbles - "Groove Me" (2:43)
4.
Sound Dimension - "Time Is Tight" (2:50)
5.
The Heptones - "Message From A Black Man" (3:23)
Cara 2
1.
Otis Gayle - "I'll Be Around" (3:34)
2.
Jerry Jones - "Still Water" (2:50)
3.
Sound Dimension - "Soulful Strut" (2:01)
4.
Richard Ace - "Can't Get Enough" (3:30)
5.
The Chosen Few - "Don't Break Your Promise" (3:57)
Cara 3
1.
Eternals - "Queen Of The Minstrels" (3:23)
2.
Norma Fraser - "The First Cut Is The Deepest" (3:14)
3.
Ken Parker - "How Strong" (2:19)
4.
Ken Boothe - "Set Me Free" (7:05)
Cara 4
1.
Senior Soul - "Is It Because I'm Black" (3:13)
2.
Jackie Mittoo - "Deeper & Deeper" (2:47)
3.
Alton Ellis - "I Don't Want To Be Right" (3:27)
4.
Willie Williams - "No One Can Stop Us" (3:20)
Review
There are many Soul Jazz compilations which have become iconic classics in their own right, and this is surely one of them. From their exhaustive framing of the mighty output of Jamaica's Studio One, Studio One Soul looks at the legacy of reggae, ska and rocksteady covers of US soul classics. Some of these versions threaten to supersede the originals, not least when delivered by such legends as Leroy Sibbles, The Heptones and Jackie Mittoo. 'Express Yourself' ports into a shuffling skank so naturally, while 'Can't Get Enough' sees Richard Ace doing an incredibly sweet twist on the Barry White anthem. The whole compilation is pure gold, start to finish.
Delivery
Returns & refunds
If you decide an product is not suitable within 14 days of delivery, you can return it to us for a replacement or refund. Returns must be unused and in their original, undamaged packaging.
Some items are excluded from our money back guarantee:
- Computer software that has been unsealed or registered
- Any item that comes directly into contact with the nose, ears or mouth
To arrange a return, just contact our customer service department on 020 7424 2800 or via our customer support form.

100% Compra Segura
BEST MUSIC STORE:
5 TIME WINNERS