Equipment
Artículos del 1 al 2 de 2 en la página 1 de 1
Cat: 486277 Rel: 08 Apr 13
Ultra lightweight high density 1000 watt power amplifier
Notes: The iNuke Series power amplifiers pack massive amounts of output power into exceptionally lightweight, rack-mountable packages. Our revolutionary high-density Class-D technology combined with ultra-efficient switch-mode power supplies ensures these feather-light powerhouses will drive your rig effortlessly for many years to come.

The front panel controls and indicators provide your system's vital signs at a glance. After pressing the Power button, the power LED lights to show the amp is ready for action. All channels feature positive-detent Gain controls with signal LEDs that light when a signal is present, as well as clip LEDs to indicate when the signal is distorted and you need to reduce the input signal.

The rear panel is just as elegant, with combo XLR and 1/4" TRS input connectors making the iNuke compatible with virtually any source, balanced or unbalanced. Professional twist-lock Speakon output sockets are provided to ensure every drop of output power gets to your loudspeakers. The rear panel is also where you'll find the switches that enable iNuke amps to work in either dual mono, stereo or mono bridge mode. A built-in Crossover switch enables the amp to operate in biamp mode, sending low frequency content to passive subwoofers, while the high-frequency output is channeled to fullrange loudspeakers (CH1>100 Hz / CH2<100 Hz or Fullrange).

Sporting massive output ratings, lightweight Class-D technology, an equally lightweight price tag, and all the amenities a professional audio engineer could ask for, Behringer iNuke amplifiers are serious amps for the most demanding applications.

…

Read more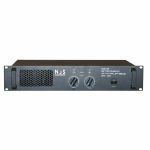 Cat: 679196 Rel: 14 Aug 17
B-STOCK: Box damaged, product unused & in perfect condition
Notes: ***B-STOCK: Box damaged, product unused & in perfect condition***


A stereo power amplifier with independent left and right volume controls. Unbalanced jack inputs, and 4 Pole speaker outputs, with soft start and thermal protection to prevent damage to your speakers. Signal and clip indication LEDs, robust rack ears and a cooling fan.
…

Read more
Artículos del 1 al 2 de 2 en la página 1 de 1